See What Our Customers Say About Mills Meats!
---
Dear Mills Family Farm,
I just want to share how much our family LOVES your beef! When Earthfare closed a few months ago we were concerned where we would find good quality Grassfed beef. We prayed and asked God to help us find it. He certainly did! We were customers at Weaver Street Market and began to investigate their beef. Wow! We are now thrilled to eat such delicious hamburger weekly right here in Raleigh. We recently had your sirloin steaks and they were superb! Your beef far surpasses what we were buying at Earthfare and is an answer to our prayers.
We are so grateful for the high quality standards you have for your meats! I just wish Weaver Street carried your lamb. My parents were missionaries in S Africa and introduced me to lamb. I love it but good quality is so hard to find.
Thank you and May God Bless You,
– Lorre H. Reason
---
Hi Nicole
It was great meeting you Saturday. I look forward to dealing with you often in the future.
I have to tell you, I cooked the 8 chicken breasts last night for dinner. We were all amazed at how much they "puffed up" after cooking. They were unbelievably moist and tender. We will be coming back for more (without a doubt).
Look forward to trying more of my goodies.
– Tina Ellerby
---
Nicole, I was very busy the last week, but want to take this opportunity to let you know that the pork shoulder and the Boston butt I got from you were absolutely amazing. I ended up doing a 22-hour smoke, and everybody at the event was raving about the quality of meat.
We had also gotten a culotte steak from you earlier, and we made that using our immersion cooker with the spiced beef in a vacuum bag to bring it to temperature and let it tenderize (about 2-3 hours) and then for about 3 minutes a side on the hot charcoal grill.
Fantastic!
– Siegfried (Siggi) Becker
---
I eat lots of steaks from around the world. Besides that, I am kind of a (hobby) chef. When Nicole told me they had the best, I was kinda in doubt. Sure you have. 😉 Today I was finally able to try it. I'm kind of in shock. They did not lie. I cut the steak in half and prepared it the same way, but I wanted one piece cold for a snack. Olive base, grass butter, garlic, rosemary added in the process. Spoon over. Medium rare, rest for 8 minutes. French pepper sauce, fries and a green salad. Nothing fancy in presentation. All for the taste of the steak.
Best steak until now? Hmmmmmmm…. Definitely yes. 5 stars!! (Next test the BBQ)
Thank you both for the meat and the help to bring it down to this deserted island!! I hope you can provide me in the future if needed !!
– Jörgen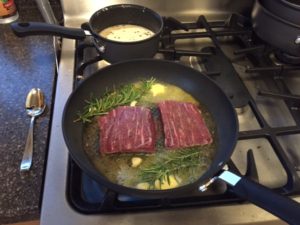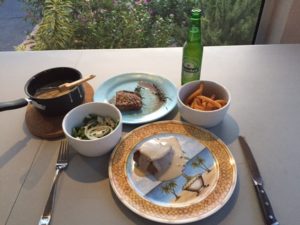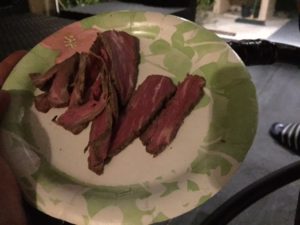 ---
Hi Nicole,
Yesterday was our first visit to your family farm, and a neighbor recommended you. It is wonderful to find quality food in this scary time of toxic pesticide, herbicide and antibiotic use. Having grown up in the Midwest during much simpler times, we know all of our food is not what it used to be. The pork chops we had last night were wonderful!!! They actually tasted like healthy pork and melted in our mouths. We will be regular customers and look forward to enjoying the variety of things we purchased yesterday. Please let us know when you have pork spare rib slabs available. For us, the thanks and appreciation go to you! We could not be happier and are grateful we found you!
– Jan Harris
---
God bless you guys! I just discovered your products and your mission statement. To my family, knowing that animals were raised humanely and put down humanely is crucial. We will now purchase your products exclusively and hope to spread the word. We need more farms such as yours, as we believe that the spirit of the animal having been raised happily and passed peacefully will not only nourish us, but feed our spirit.
– Dwayne Holst, Chapel Hill
---
Steaks were amazing. I had people here from all over, and they were all raving. My friend's grandparents were visiting from Colorado, and the grandfather compared it to steaks at Elways or Shanahan's restaurant in Denver. Said it was top 5 steaks he's ever had. Some friends of mine who are here often said it was the best steak they've ever had. Not just that I have cooked for them, but ever. I thought they had great flavor, and their texture was the best I've ever had in a rib eye. I seasoned them with salt and pepper, and just a little bit of garlic powder.
– Justin
---
This was our first purchase from you guys. We made the steaks this weekend, and they were excellent! My girlfriend & I have lived in Mooresville for about a year & a half. We haven't been able to get good beef on any consistent basis. Whole Foods, Earth Fare & Fresh Market's prime meats are hard to find, and even when they have them, they aren't always that good. Your steaks were much better than theirs & the best we've found down here!!! You're only 6 miles from our home!! Awesome! Good-quality beef is very important to us & my girl HATES Whole Foods & traveling south on 77!!! You are a most welcome find, lol!
Mills Family Farm is certainly our best discovery down here so far!!!
I would like to order a bone-in standing rib roast for Christmas.
Thank you!
– Michael A. Halama, Bulldog Installations LLC, Charlotte, NC
---
Dear Bradley and Nicole,
It was so great meeting you both today along with Dan and his girlfriend. As a lover of animals , I will say your farm and its philosophies have won me and my husband over. The ethical and humane treatment of all animals from birth until slaughter is extremely important to us. I also appreciate the job you are doing in sustaining our environment. And y'all are so friendly and informative. I would love to learn more from you both about animal husbandry. We look forward to seeing you both in the future and supporting your farm. Thank you for being good stewards to our animals and the land.
– Kim Alexander
---
The tenderloin was a big hit. I left it whole and rubbed it with rosemary, thyme, S & P, and olive oil. I roasted it in the oven because I was out of charcoal for the grill. It was super moist and tender. Thanks again for a fantastic product. Have a good day.
– Candy
---
Hello Nicole,
I wanted to tell you that my husband finally cooked the filet and thoroughly enjoyed it. He said it was one of the best filets he'd ever had. That is saying A LOT coming from this red meat eater of a man who prides himself on cooking the perfect steak. I anticipated him having to take time to acquire a taste for grass-fed beef, so I am pleased to have the green light to bring home more from your farm. I am hopeful that soon your farm will replace 100% of our meats previously purchased at the grocery store.
In addition to the filet, we have also cooked your chicken wings, which were equally delicious. My daughter (& friends at her birthday party yesterday) gave two thumbs up to the milk purchased from you, white & chocolate. I made delicious homemade granola bars/cereal with the honey, and last but not least, I found the flavor of your beef jerky to be the best I've had over any store-bought brand we have ever purchased.
I have been trying, over the last several months, to make better food choices for our family. I am thrilled to have found your farm. I truly appreciate the efforts you and your family put forth to bring us products that meet or exceed the new standards I am trying to live by. You are raising your animals the way they were intended to be raised and eating they way they were intended to eat, thus providing us the end product we were intended to eat. I am also happy to know we are placing our hard-earned dollars directly into the hands of the families that work so hard to provide it for us rather than the corporations that more and more offer less "real" food and more food-like substances. All I can say is THANK YOU!
Looking forward to my next visit!
Kelly 🙂
---
Hi it's Graddie Lane, Chef and Wine Consultant at Wine Maestro in Mooresville. Last night we had two of your center cut pork chops for dinner. I just wanted to let you know how truly amazing that pork was: simply cooked after a few hours in a spiced brine and coated with cracked Lampong pepper. Even the fat was amazing: rich and buttery, and we savored tiny bites with a Belle Glos Pinot Noir. It was undoubtedly one of the best pork chops I have ever tasted. I just wanted to give thanks to you and the pig that provided such a delicious treat. We'll be by for more soon. What breed of hogs do you farm? Please add me to your mailing list and again, many thanks. Graddie
(Our Response): Glad you liked it! Hogs are Yorkshire and Hampshire crosses. The key is to always use young animals. We never use old sows or boars so we have a consistent product. -Nicole Mills, Mills Family Farm
(Graddie): I've recently had Grateful Grower's Tamworth, the Kurobuta/Berkshire that is in vogue, and a friend served some Iberico not too long ago, and I put the flavor and fat/lean of yours in first place over all of those.
-Graddie Lane, Chef and Wine Consultant at Wine Maestro in Mooresville, NC
---
I liked the Smokey Moon Sauce. It is fantastic! We smoked a Boston butt and used the sauce. Wow! It is a great addition to your offerings. Thank you again.
-Wilton Connor, Mooresville, NC
---
Hi! I have heard about your farm & products for several months. I am a transplant from NJ & have had a never-ending search for a quality pork sausage for almost 30 years. Today, my search has ended!! Thank you so much!!! I bought 3 different packs of sausage & some hangar steak. I grilled the sausages with onion and peppers, and it was ecstasy!! Absolutely mouth-watering fantastic!! I will be a regular customer!
Sophie Hill
---
Hey Nicole! Tommy & I tried the burgers, and they turned out great. Can't wait to try the rest!
Brandy McAuley Donaldson
---
Thank you so much for offering the BEST beef and pork we have ever tasted!
Diane Jenkins
---
Just wanted to send you a message and thank you for the Denver steak recommendation. Absolutely delicious!! We have loved each of the meats we've eaten thus far, and I look forward to being a Mills Family Farm customer forever! Thank you!
Heather
---
I had those rib eyes you sent last time. Awesome!! To say the least, I will definitely be ordering some more of those from you.
Mason Nicholson – Raleigh, NC
---
The tri-tip was OUTSTANDING! Best I have ever had in the U.S. You are now my only supplier for that! Please let me know when you will have more. I might want to stock up a bit 🙂
Eduardo Ferrari
---
Yesterday, my family went to your farm to purchase meat for our first time. Last night we made burgers and enjoyed the best meat we have ever had. Your meat is amazing! Thank you for calling the house last night about the tri-tip. We will place an order for that next time. We are so excited to have found you. We will definitely be placing more meat orders in the future. I will share the news about your meat (I am sure the pork and chicken are delicious too) with everyone I know.
Diane Jenkins – Cornelius, NC
---
We made the best ribs ever from Mills Meats beef back ribs. Thanks so much.
Jennifer Gilbert
---
We made the beef shoulder roast yesterday, and it turned out so fabulous. Best roast I ever made.
Lisa Barnett – Troutman, North Carolina
---
OMG, our beef brisket turned out so well. So many compliments on the beef. You are our new meat market!! So glad we found you!!
Nan Davis – Mooresville, North Carolina
---
We had the pork chops tonight (only 2) and they were fantastic! We LOVED the steak, and Rob even went so far as to tell Chris, our neighbor, all about you. Rob doesn't often speak about where he buys things, and in your case, I was just blown away by what he said to Chris. I knew he thought it was good, but he was talking about cutting the filet with a butter knife (really!). Thought you'd appreciate some applause.
Rob – Denver, NC
---
I buy briskets from you at the Advance Farmers Market. I just smoked a 7-lb brisket I bought from you, and it was about the best brisket I've ever smoked.
Jack Wilkerson – Winston, NC
---
I purchased two of your cowboy rib eyes at the farmers market in Charlotte on Saturday morning. Cooked them this evening with a quick pan sear and finished in the oven in a cast iron skillet, with only salt and pepper as seasoning. They were amazingly delicious! Thank you for such wonderful meat. I recently moved to the area and will seek out your products for sure. Thanks for all your hard work. It is greatly appreciated!
Nancy Lynn Hargis – Charlotte, NC
---
Over New Year's Eve weekend, I had an opportunity to try Mills Meats. Due to my past experiences with extreme indigestion, I was hesitant to try any beef. Since I was so hungry, I took a chance and ate a hamburger from Mills Meats. Not only did it taste delicious, but hours later, I did not have any indigestion whatsoever. That same weekend, I also tried their steaks . . . that would be the BIG test. Fortunately after enjoying a tenderloin, again, I had no discomfort or indigestion. Based on these two experiences, I am now convinced not only are they tasty and lean, but I will also be a longtime loyal customer! Try it. YOU'LL LIKE IT!
Denise Casale – Solana Beach, CA
---
I prefer Mills Meats over anyone else. The first thing I noticed was the "no smell" from the ground beef! You know the smell that you have from store-bought beef before you season it? Mills Meats ground beef doesn't have that smell. The stew meat and roast are so tender and have the best flavor! You won't go wrong buying Mills Meats.
Kelli Hurley – Mooresville, NC
---
I recently purchased some of Mills Meats, and I have to say that it was the most favorable and tender meat that I have ever tasted! The steaks and the lean beef surpass any meat I have ever eaten. My husband and I look forward to our every Sunday night steak dinners. It's a 10!!!
Denise Davies- Solana Beach, CA
---
My husband does all the cooking, but I enjoy his dishes immensely. We love Mills Meats ground beef! It's so lean and delicious. First time my husband grilled the ground beef and he was so pleased at how well they turned out compared to grocery store ground beef. We have also enjoyed it in vegetable beef soup and stuffed cabbage rolls.
Lisa Barnett- Troutman, NC
---
I have used the ground beef in spaghetti sauce and also in tacos. It had very little fat (grease) and was very good.
Carol Darby- Mooresville, NC
---
I am happy to say that we have had a totally positive experience with Mills Meats. We are repeat customers, and you can count on us shopping with you again soon. The quality of beef is absolutely wonderful. Being able to get the hormone-free beef is great, and the price and quality are top-notch. We have had the ground beef, the cube steaks were fork tender, the Ribeye steaks tender and juicy. Next we are having the standing rib roast. As a chef of thirty years, I highly recommend that you try Mills Meats, I am sure that you will be most happy with them.
Chef Hope Pallas- Troutman, NC
---
We have used both the steaks and the hamburgers on our George Forman Grill and have found them to be incredibly flavorful, tender, and juicy.
Cody Vincent PhD- Ft. Lauderdale, FL
---
We've tried the ground beef, and it was top-quality! Austin loves grilling burgers, and Braden's favorite is ground beef with pasta! We've made tacos and meatloaf and all have been devoured! We want to try the steaks and your cuts for London broil and pot roast – we know quality always comes first! Taste the Mills Meats difference!
Tiffany Melvin – Miami, Florida
---